About Gstar



Management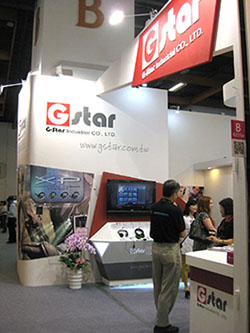 gstar
Gstar can offer wide range of 3C and multimedia accessories at competitive price.

We established in 1996. With many years experience at both marketing and Manufacture.
The strong R&D team, advance production facilities and stringent quality assurance.
We can guarantee punctual delivery to Serve all our clients. We got the ISO 14001.
Both OEM and ODM requests from buyers are welcome.
gstar
priority has always been to improve products quality in order to meet buyer's need. To maintain Our high standard of quality, all products undergo stringent quality control before shipment.
---

Research and development
R&D staff: 30
Machinery/equipment for R&D
Color plotter & printer, oscilloscope, Signal generator, attenuator, distortion meter, sound check.... With an annual budget running into 3% of selling amount, our R&D can offer a Complete series design work ranging from conceptual outline layout, prototype Mock-up sample and all mass production samples.
---
Quality Control & Reliability
QC staff: 50
Standards and approval: CE for Europe
ISO 14001 Material and components: China
Quality System: ISO 9001, ISO 14001
Standard and approval: CE, FCC, RoHS, REACH
Procedures/testing details
New product development is obligated to pass through the strict reliability test. and we follow up sample inspection according to MIL-STD-105DII-A as AQL standard. IQC, OPQC, OQC staffs are allocated to strictly control the quality from incoming materials, in-process production, to finished good packing.